Museums & Historical Sites
We have so many interesting museums and historical sites in our own neighborhood! As locals, sometimes we forget about them when we're trying to think of things to do over the weekend. Here's our chance to reexplore our community as we're loving where we live!
Showing results for Warrington, PA
The Wings of Freedom Aviation Museum has an eclectic collection of aircraft and exhibits that showcase a really remarkable assortment of historic artifacts. These aviation artifacts include but are not limited to: flight helmets, vintage and modern aviation flight gear, air to air missiles, bombs (inert), detailed aircraft models and vintage Martin Baker ejection seats. We are also privileged to have
Show more...
an extensive collection of military service medals. ...Show less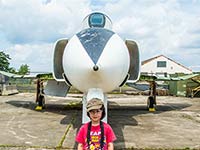 Warrington Township Historical Society
PO Box 706
Warrington
,
PA
18976
WEBSITE
| -