Our History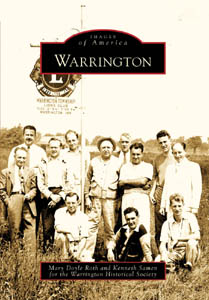 Warrington Township's history dates back to its establishment in October 1734, making 2009 the 275th anniversary of the township's founding. The earliest information on the population and layout of Warrington is not well known. However, as roads developed as part of William Penn's plan, the township was divided into four villages: Warrington, Neshaminy, Tradesville, and Eureka. Each village had its own post office and school, and each village became a distinct community.

Originally, the township encompassed 5,397 acres bordered by Lower State Road, Bristol Road, County Line Road, and Valley Road. The township was expanded, then land was turned over to Doylestown Township, until Warrington Township reached its present size of 8,812 acres.

Warrington Village, initially known as "Newville" and "Lukens Corner", was located at Bristol and Easton Roads. In 1864 the area became known as "Warrington". Also in 1864 Neshaminy Village was named for the stream running at its southern side.

Neshaminy Village was located at the intersection of Easton and Street Roads, and was named after Neshaminy Creek. It received that name in 1864, changing its original name which was Warrington Square.

Tradesville, located at the intersection of Lower State and Bristol Roads, in 1887 consisted of 1 house at each corner of the intersection. It was also knows as "Brunnerville" and "Stuckert's Corner."

The village of Eureka, at the intersection of Limekiln Pike, County Line Road, and Lower State Road, was originally known as "Pleasantville".

This information, as well as the pictures below, is from "Warrington", in Arcadia Publishing's "Images of America" series. Authors are Mary Doyle Roth and Kenneth Samen of the Warrington Historical Society. This book can be purchased online.
Warrington - Images of America
A pictorial history of Warrington, PA, from the publication by Arcadia Publishing, by Mary Doyle Roth and Kenneth Samen for the Warrington Historical Society.

Warrington Inn - Since 1792



Service Station



Garges Milk Truck



Stone House Built 1738



Old Stone House



Log & Stone Home - Built Circa 1810



Neshaminy Creek Recreation - Summer in the 1930's



Canoeing on the Neshaminy Creek



Martha and Warren Lewis - 1913


(Click for Larger Image) Images 1 to 9 of 9
Arcadia Publishing - Images of America